Bienvenue sur ProGuideAH, Voici un guide sur « Réponses au Logo Quiz 2022 », Bon jeu.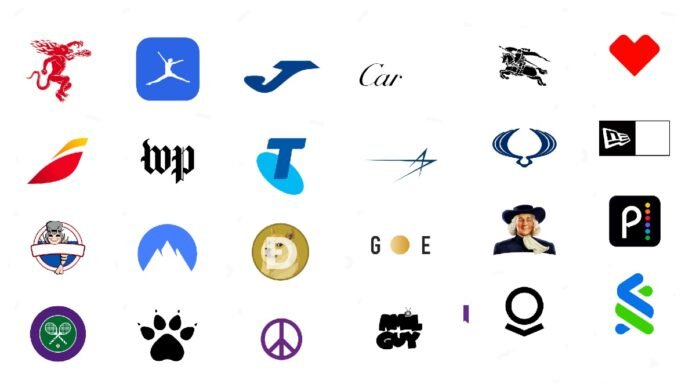 Logo Quiz 2022 est un jeu de quiz amusant où les joueurs doivent nommer les marques et les entreprises représentées par leur logo. Il y a actuellement 55 niveaux, chacun avec 15 logos à deviner. Tout ce que vous avez à faire est d'écrire la réponse dans la case prévue à cet effet, et l'application vous dira si elle est correcte. Si vous avez besoin d'aide pour épeler le nom de l'entreprise ou pour déterminer à qui appartient le logo, vous trouverez toutes les réponses ici ! Découvrez ci-dessous toutes les réponses au quiz sur le logo 2022 – liste complète pour toutes les réponses des niveaux 21 à 40 !
Réponses du quiz sur le logo Niveaux 21 à 40
Tous les logos du quiz sur le logo 2022 sont représentés avec des lettres manquantes, mais ils donnent tous un petit indice sur ce qu'ils pourraient être. Il suffit de lire la liste ci-dessous et de trouver celui dont vous avez besoin pour terminer le niveau où vous êtes bloqué ! Vous trouverez d'autres niveaux dans le lien à la fin de cette liste.
Niveau 21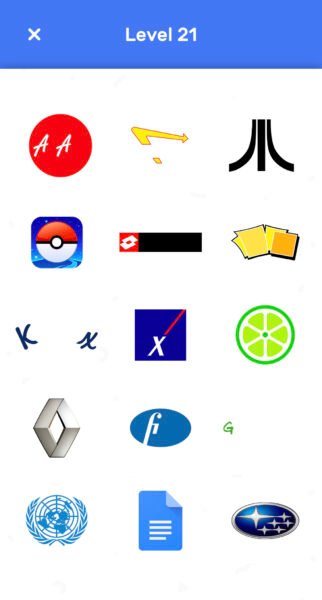 Air Asia
In-N-Out
Atari
Pokemon Go
Lotto
Post It
Kleenex
AXA
Lime
Renault
Pfizer
Greenpeace
Nations Unies
Google Docs
Subaru
Level 22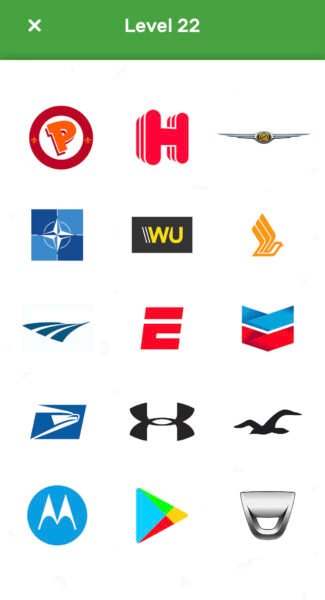 Popeyes
Hotels.com
Chrysler
OTAN
Western Union
Singapore Airlines
Amtrak
ESPN
Chevron
USPS
Underarmour
Hollister
Motorola
Google Play
Dacia
Level 23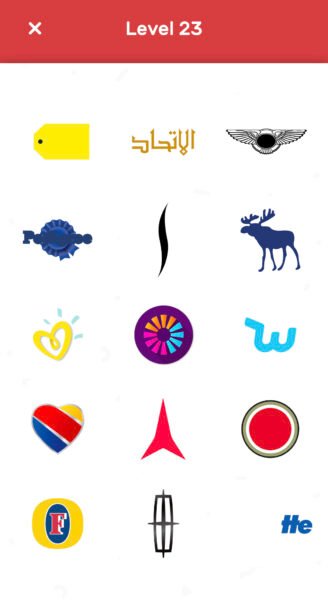 Best Buy
Etihad
Bentley
Pedigree
Sephora
Abercrombie & Fitch
Pampers
MoMondo
Wish
Southwest Airlines
Atomic
Lucky Strike
Fosters
Lincoln
Gillette
Level 24
The New York Times
CNET
NASCAR
Umbro
Air Canada
DC
UNESCO
Messenger
Oiseau
Expedia
Tata
Oncle Bens
Castrol
Volcom
Mazda
Level 25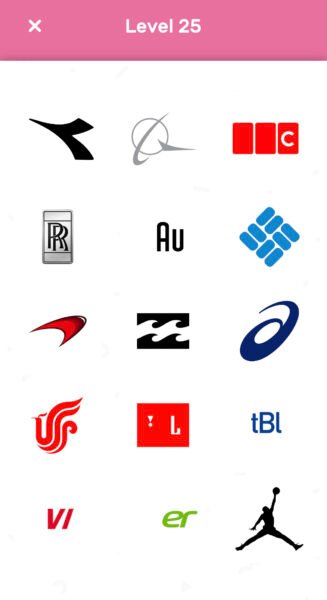 Diadora
Boeing
TLC
Rolls Royce
Braun
Columbia
McLaren
Billabong
Asics
Air China
JBL
Jet Blue
Avis
Acer
Jordan
Level 26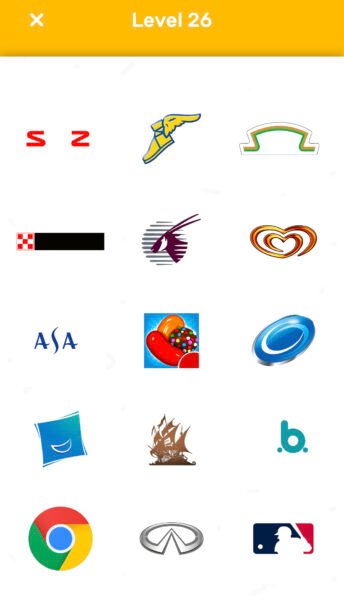 Isuzu
Goodyear
Heinz
Purina
Qatar Airways
Magnum
Dasani
Candy Crush
Head & Shoulders
Hasbro
Pirate Bay
OB
Chrome
Infiniti
MLB
Level 27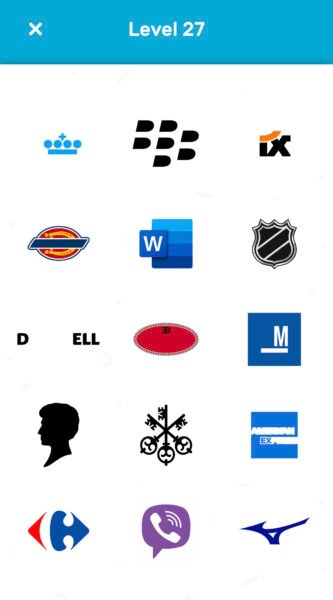 KLM
Blackberry
Sixt
Dickies
Microsoft Word
NHL
Duracell
Bugatti
GM
Schwarzkopf
UBS
American Express
Carrefour
Viber
Mizuno
Level 28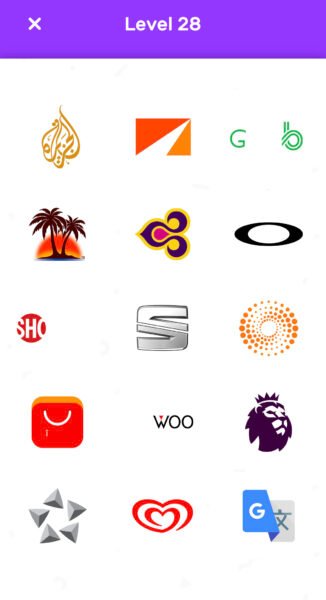 AL-Jazeera
Budget
Grab
Malibu
Thai Airways
Oakley
Showtime
Seat
Reuters
AliExpress
Kenwood
Premier League
Star Alliance
Heartbrand
Google Translate
Niveau 29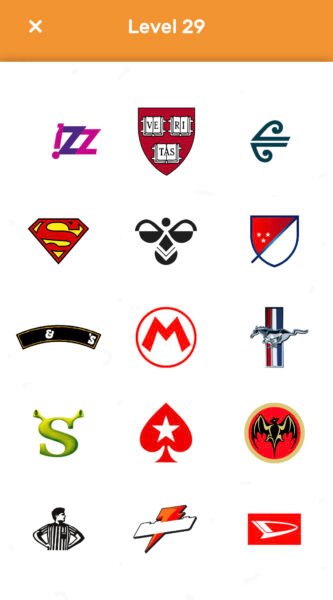 Wizz Air
Université de Harvard
Air New Zealand
Superman
Hummel
MLS
Ben & Jerry's
Mario
Mustang
Shrek
Pokerstars
Bacardi
Footlocker
Gatorade
Daihatsu
Niveau 30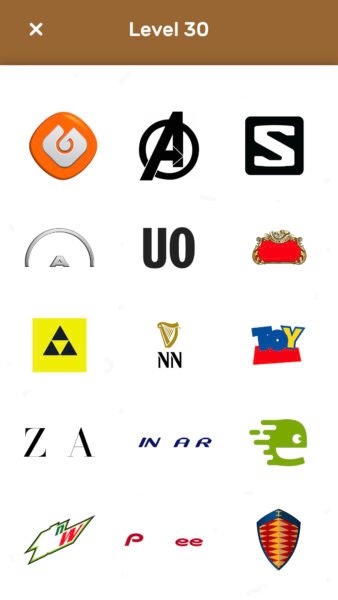 Galp
Avengers
Salomon
MAN
Urban Outfitters
Stella Artois
Fischer
Guinness
Toy Story
Zara
Finnair
Endomondo
Mountain Dew
Pioneer
Koenigsegg
Level 31
Voir aussi : Les meilleurs jeux de quiz en ligne pour jouer avec des amis sur Android en 2022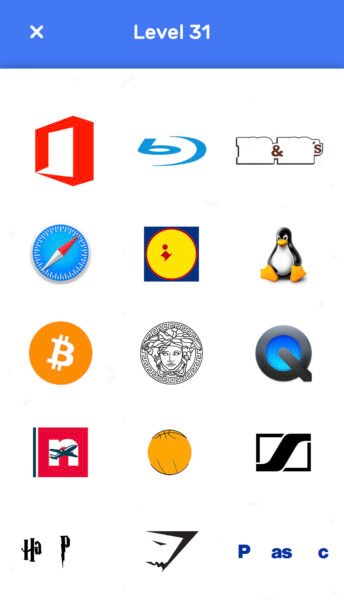 Microsoft Office
Blu-ray
M&Ms
Safari
Lidl
Linux
Bitcoin
Versace
QuickTime
Norvégien
Los Angeles Lakers
Sennheiser
Harry Potter
Gymshark
Panasonic
Level 32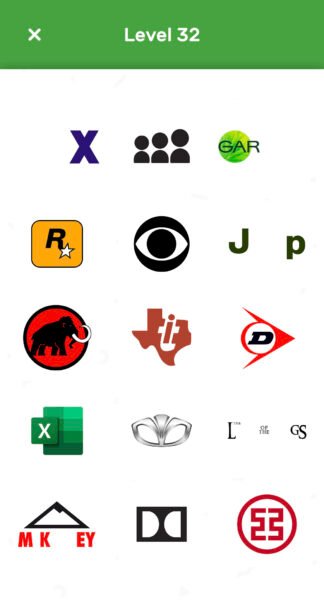 Fox
Myspace
Garnier
Rockstar Games
CBS
Jeep
Mammut
Texas Instruments
Dunlop
Excel
Daewoo
Le Seigneur des Anneaux
McKINLEY
Dolby
ICBC
Level 33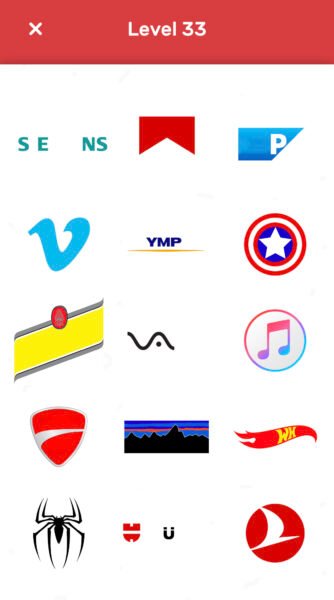 Siemens
Marlboro
SAP
Vimeo
Olympe
Captain America
Schweppes
Vaio
iTunes
Ducati
Patagonia
Hotwheels
Spiderman
Wurth
Turkish Airlines
Level 34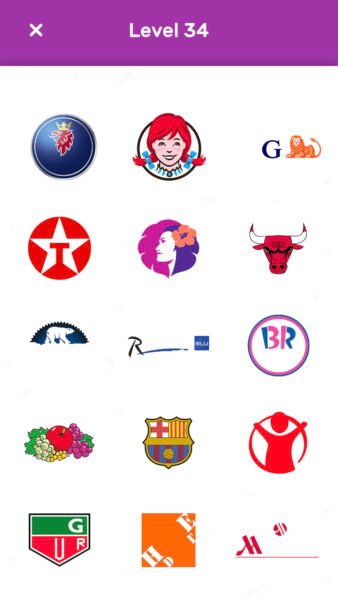 Saab
Wendy's
ING
Texaco
Hawaiian Air
Chicago Bulls
Klondike
Radisson Blu
Baskin-Robbins
Fruit of the Loom
FC Barcelona
Save the Children
TAG Heuer
Home Depot
Marriott
Level 35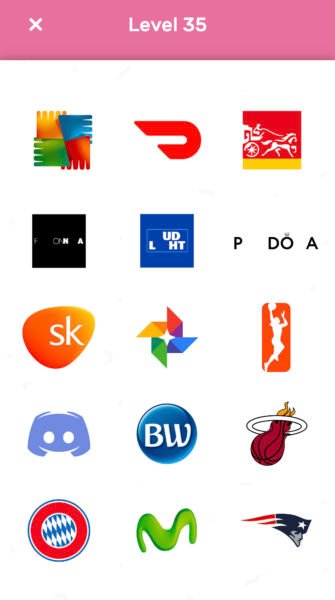 AVG
Doordash
Wells Fargo
Fashion Nova
Bud Light
Pandora
GlaxoSmithKline
Google Photos
WNBA
Discord
Best Western
Miami Heat
FC Bayern Munchen
Moviestar
New England Patriots
Level 36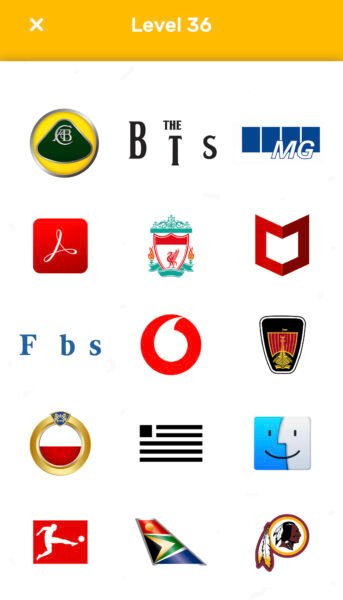 Lotus
Beatles
KPMG
Adobe
Liverpool FC
McAfee
Forbes
Vodafone
Rover
Amstel
US Airways
Finder
Bundesliga
South African Airways
Washington Redskins
Niveau 37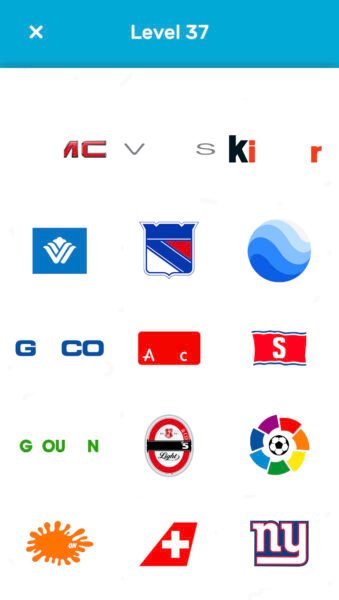 GMC
Voss
Kinder
Wyndham
NY Rangers
Google Earth
Geico
Adecco
Stena Line
Groupon
Becks
LA Liga
Nickelodeon
Swiss Air
NY Giants
Level 38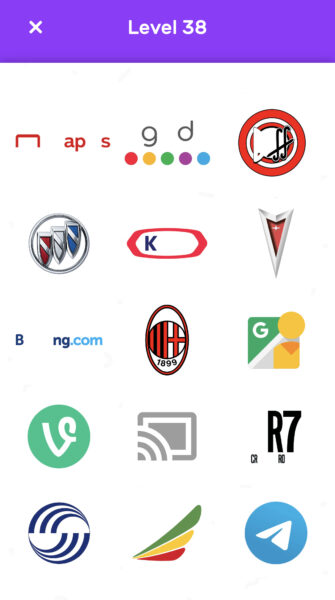 Staples
Agoda
Duff Beer
Buick
Kraft
Pontiac
Booking.com
AC Milan
Google Street View
Vine
Chromecast
Cristiano Ronaldo
Airbus
Ethiopian Air
Télégramme
Level 39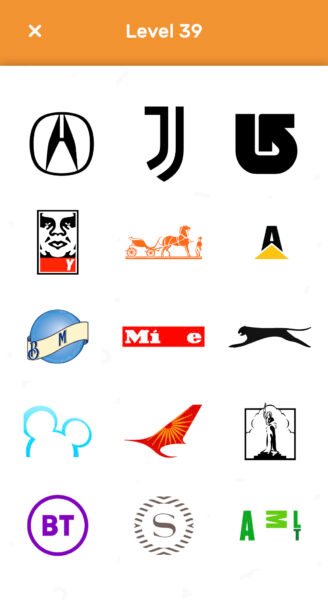 Acura
Juventus
Burton
Obey
Hermès
Caterpillar
Blue Moon
Miele
Slazenger
Disney Channel
Air India
Columbia Pictures
British Telecom
Sheraton
Animal Planet
Level 40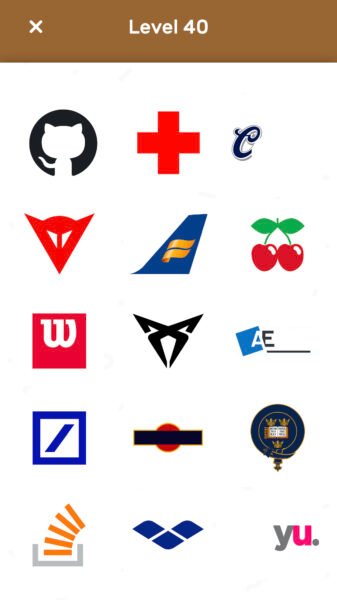 Github
Croix-Rouge
Coors
Dainese
Iceland Air
Pacha
Wilson
Cupra
Aegon
Deutsche Bank
Martini
Université d'Oxford
Stack Overflow
Arena
Hayu
Voilà qui conclut les réponses du quiz sur le logo pour les niveaux 21 à 40 ! Revenez nous voir pour la liste mise à jour. La prochaine fois, pourquoi ne pas consulter les autres quiz mobiles disponibles? Bonne chance.
Lire plus Guide: