Bienvenue sur ProGuideAH, Voici un guide sur « Réponses au Logo Quiz 2022 », Bon jeu.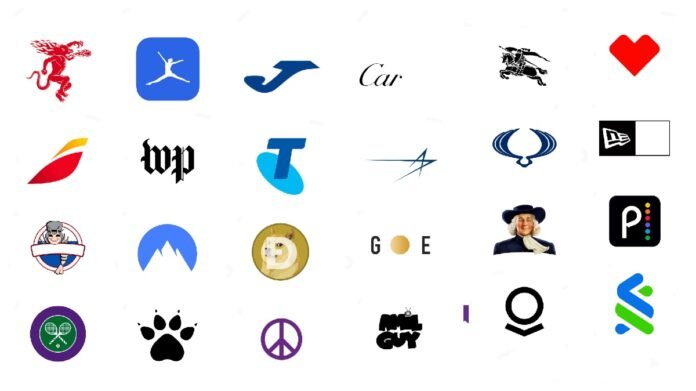 Logo Quiz 2022 est un jeu de quiz amusant où les joueurs doivent nommer les marques et les entreprises représentées par leur logo. Il existe actuellement 55 niveaux, chacun comportant plus de 15 logos à deviner. Tout ce que vous avez à faire est d'écrire la réponse dans la case prévue à cet effet, et l'application vous dira si elle est correcte. Si vous avez besoin d'aide pour épeler le nom de l'entreprise ou pour savoir à qui appartient le logo, vous trouverez toutes les réponses ici ! Découvrez ci-dessous toutes les réponses au quiz sur le logo 2022 – liste complète pour toutes les réponses des niveaux 1 à 20 !
Réponses du quiz sur le logo Niveaux 1 à 20
Tous les logos du quiz sur le logo 2022 sont représentés avec des lettres manquantes, mais ils donnent tous un petit indice sur ce qu'ils pourraient être. Il suffit de lire la liste ci-dessous et de trouver celui dont vous avez besoin pour terminer le niveau où vous êtes bloqué ! Vous trouverez d'autres niveaux dans le lien à la fin de cette liste.
Niveau 1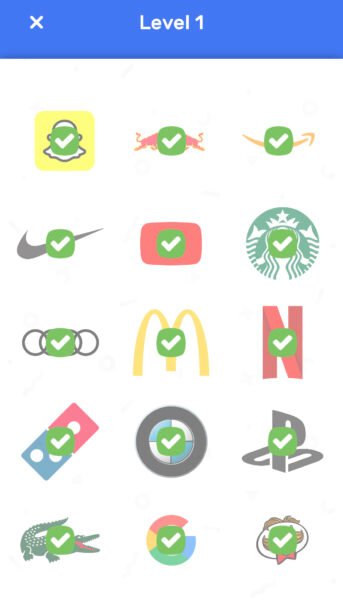 Snapchat
Red Bull
Amazon
Nike
YouTube
Starbucks
Audi
McDonalds
Netflix
Domino's Pizza
BMW
Playstation
Lacoste
Google
Pringles
Level 2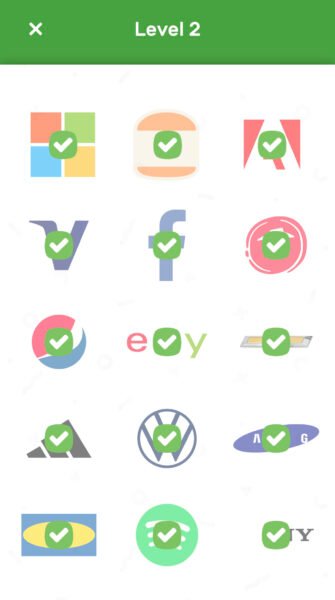 Microsoft
Burger King
Adobe
VISA
Facebook
Pizza Hut
Pepsi
Ebay
Chevrolet
Adidas
Volkswagen
Samsung
Ikea
Spotify
Sony
Level 3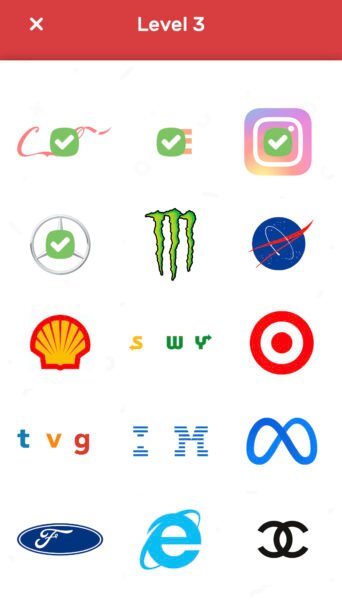 Coca Cola
Fedex
Instagram
Mercedes Benz
Monster Energy
NASA
Shell
Subway
Target
Trivago
IBM
Meta
Ford
Internet Explorer
Chanel
Niveau 4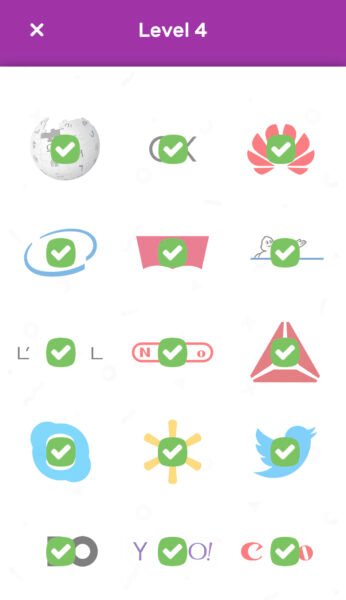 Wikipedia
Calvin Klein
Huawei
Intel
Levi's
Michelin
L'Oréal
Nintendo
Reebok
Skype
Walmart
Twitter
HBO
Yahoo
Canon
Level 5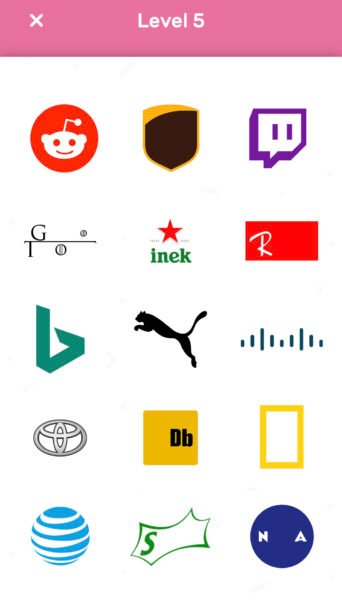 Reddit
UPS
Twitch
Game of Thrones
Heineken
Ray-Ban
Bing
Puma
Cisco
Toyota
IMDB
National Geographic
AT&T
Sprite
Nivea
Level 6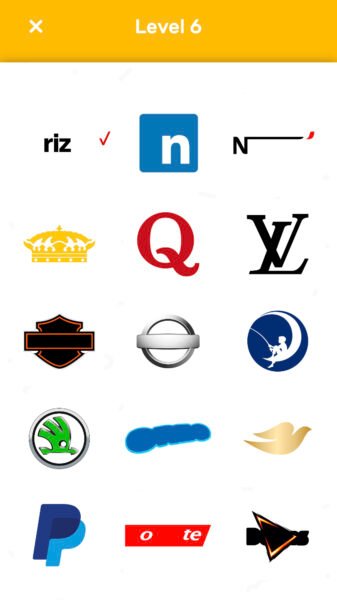 Verizon
Linked In
Nescafe
Corona
Quora
Louis Vuitton
Harley Davidson
Nissan
Verizon
Dreamworks
Skoda
Oreo
Dove
PayPal
Colgate
Doritos
Level 7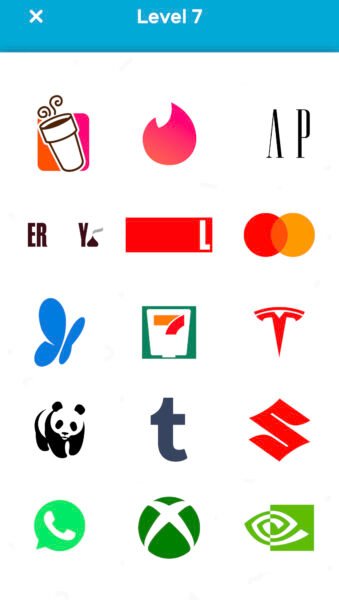 Dunkin Donuts
Tinder
Gap
Hershey
Marvel
Mastercard
MSN
7 Eleven
Tesla
WWF
Tumblr
Suzuki
Whatsapp
Xbox
Nvidia
Level 8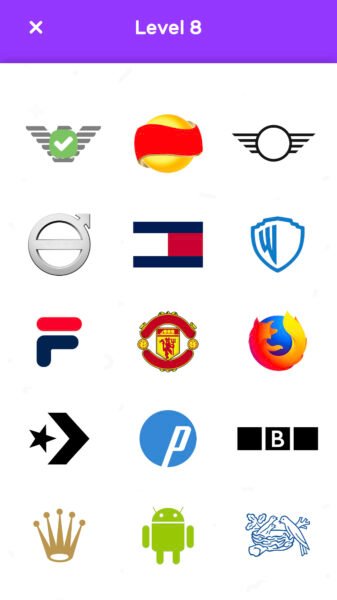 Armani
Lay's
Mini
Volvo
Tommy Hilfiger
Warner Bros
Fila
Manchester United
Mozilla Firefox
Converse
HP
BBC
Rolex
Android
Nestlé
Level 9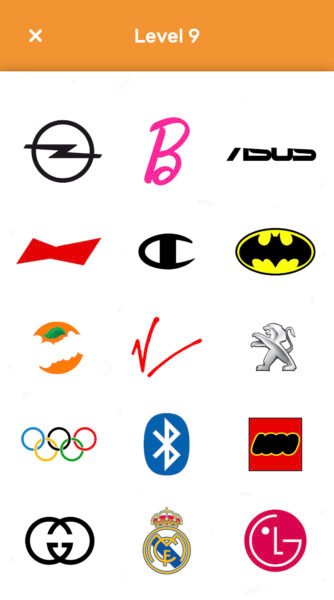 Opel
Barbie
Asus
Budweiser
Champion
Batman
Fanta
Virgin
Peugeot
Jeux olympiques
Bluetooth
Lego
Gucci
Real Madrid
LG
Level 10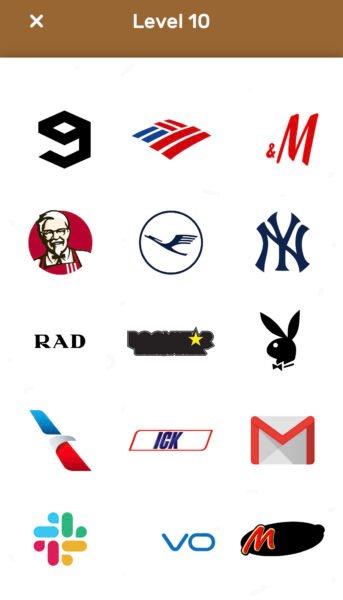 9Gag
Bank of America
H&M
KFC
Lufthansa
New York Yankees
Prada
Rockstar
Playboy
American Airlines
Snickers
Gmail
Slack
Vivo
Mars
Niveau 11
Kodak
Esso
Shazam
Milka
Nespresso
Emirates
Beats
DHL
Hello Kitty
Nutella
Taco Bell
HSBC
Quiksilver
TikTok
Google Maps
Level 12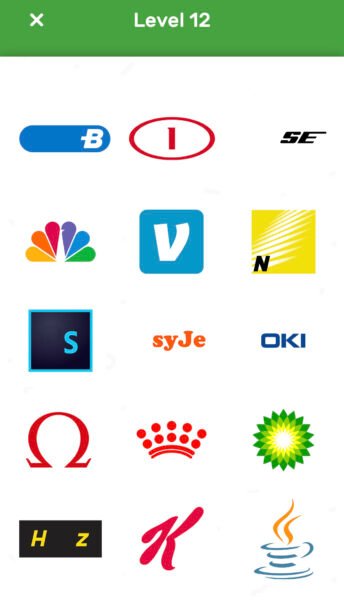 Oral B
Kia
Bose
NBC
Venmo
Nikon
Photoshop
Easy Jet
Nokia
Omega
Royal Canin
BP
Hertz
Kelloggs
Java
Level 13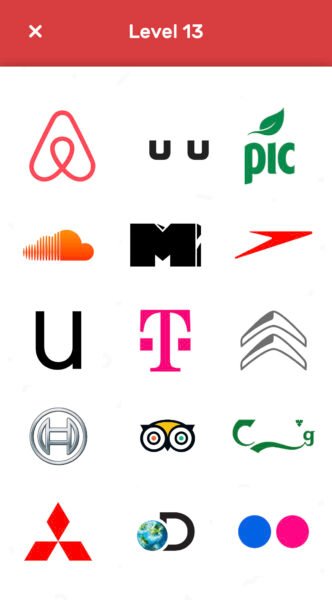 Airbnb
Hulu
Tropicana
Soundcloud
MTV
Speedo
Uber
T Mobile
Citroën
Bosch
Tripadvisor
Carlsberg
Mitsubishi
Discovery
Flickr
Niveau 14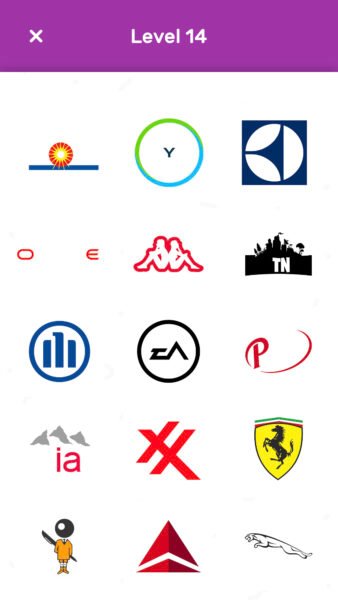 Dole
Bayer
Electrolux
Oracle
Kappa
Fortnite
Allianz
EA
Dr Pepper
Evian
Exxon
Ferrari
BIC
Delta
Jaguar
Level 15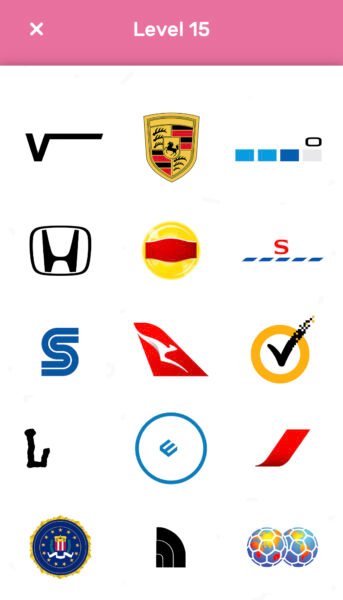 Vans
Porsche
GoPro
Honda
Lipton
Tesco
SEGA
Qantas
Symantec
Lee
Dell
Air France
FBI
The North Face
FIFA
Level 16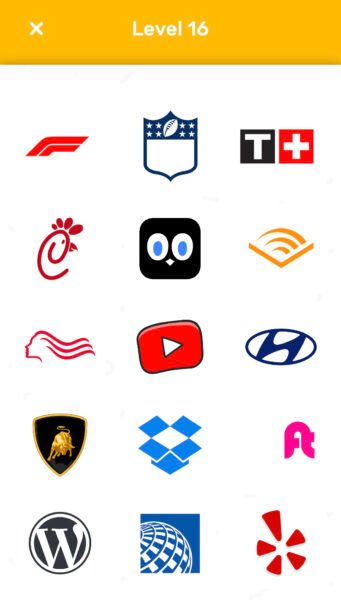 Formule 1
NFL
Tissot
Chick-fil-a
Hooked
Audible
Wella
YouTube Kids
Hyundai
Lamborghini
Dropbox
Lyft
WordPress
United Airlines
Yelp
Level 17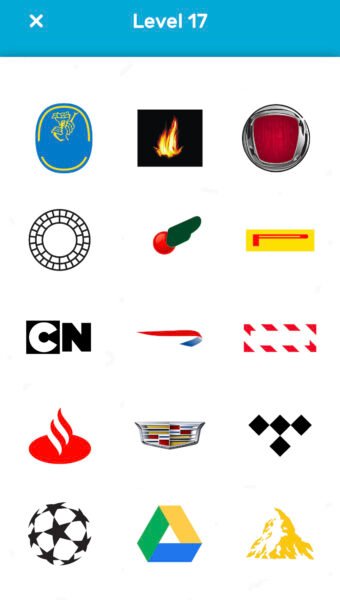 Chiquita
Burn
Fiat
VSCO
7 Up
Pirelli
Cartoon Network
British Airways
TGI Fridays
Santander
Cadillac
Tidal
Ligue des champions
Google Drive
Toblerone
Level 18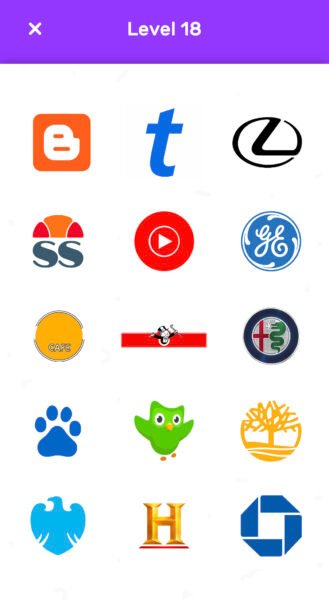 Blogger
Ticketmaster
Lexus
Ellesse
YouTube Music
GE
Hardrock Cafe
Monopoly
Alfa Romeo
Baidu
Duolingo
Timberland
Barclays
Histoire
Chase
Level 19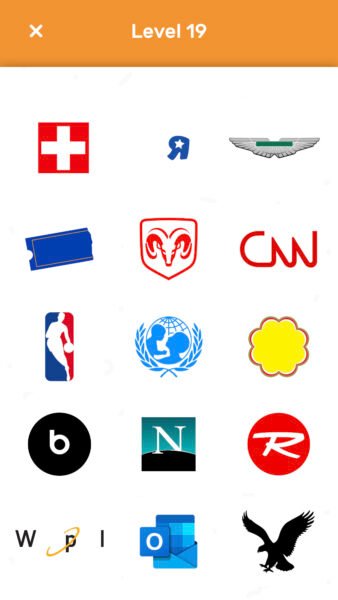 Swatch
Toys R Us
Aston Martin
Blockbuster
Dodge
CNN
NBA
UNICEF
Chupa Chups
ABC
Netscape
Rossignol
Whirlpool
Outlook
American Eagle
Level 20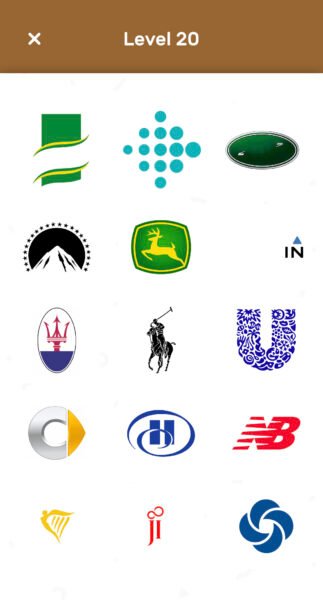 Knorr
FitBit
Land Rover
Paramount Pictures
John Deere
Garmin
Maserati
Ralph Lauren
Unilever
Smart
Hilton
New Balance
Ryan Air
Fujitsu
Samsonite
Voilà qui conclut les réponses du quiz sur le logo pour les niveaux 1 à 20 ! Cliquez sur le lien ci-dessus pour accéder aux réponses du niveau suivant. Ensuite, pourquoi ne pas consulter les autres quiz mobiles disponibles? Bonne chance et joyeux quiz !
Lire plus Guide: